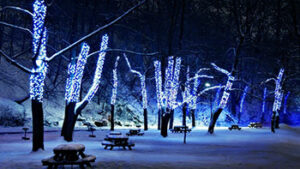 During the holiday season, many jolly customers like to book with Party Express buses (or you can call them "sleighs") to tour the glamorous lights around the Tulsa area. Party Express travels to selectively chosen winter wonderland spectacles, with the most dazzling lights around the city. Our Christmas light tours last from the end of November through December, any day of the week. If you choose to setup your own tour of destinations, alternative pricing can be discussed.
Holiday Tips: Some bus companies provide smaller windows, which in turn, makes it difficult to get the full experience while viewing the stunning lights. Other bus companies have exterior window wraps, again, making it difficult to see the lights to their full potential during the nighttime. Party Express buses provide side-facing, comfortable and quality leather seating, heaters to warm your noses, and a full-screen, LED-like window view of the lights, which helps our customers feel they have a front-row seat to the holiday cheer! Light tours Sun-Thur are usually scheduled from 6pm-8pm and 9pm-11pm. If you chose the 3 hour tour you can choose whatever time you like. Weekend availabilty is subject to our standard minimums. Please don't hesitate to call or text us for availability.
Available Time Frames:
Sunday – Thursday: 6pm-8pm or 9pm-11pm. If you do a 3 hour tour you can pick any time you want.
Friday: 6pm – 8pm or 9pm-11p. We also offer 9pm-2am light tour + bar crawl tours at this time. Get 5 hours for the price of 4!
Saturday: 530p-830p light tours on Saturday. 930pm light tours are available but will be subject to a 4 hour minimum.
Please don't hestitate to call or text. We are happy to answer any questions you may have 918-249-4386
DAILY TOURS NOV 26TH – JAN 1ST
2 Hours
3 Hours
4 Hours
5 Hours
15 Passenger
$350
$500
$650
$650
30 Passenger
$400
$550
$725
$725
35 Passenger
$400
$550
$725
$725
45 Passenger
$450
$650
$850
$850
For 6+ Hours Please Call Us.  918-249-4386